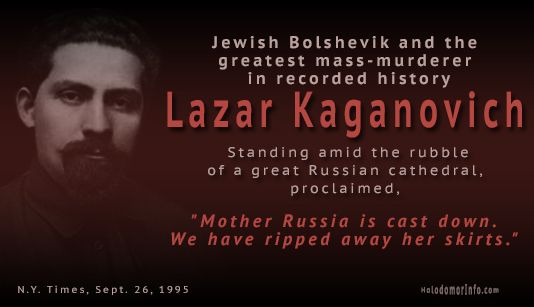 This is not some vain vying for analytical supremacy, but the urgent work of exposing the truth of Putin, the East and the overall conspiracy and I hope you will find conviction so you can alert your readers.
It is summed up succinctly in Louis Marschalko's priceless book - 'The World Conquerors';
'An unknown Catholic friar, Sziliczei-Varady Gyula, once wrote prophecies that were soon forgotten in a book called From the Ghetto to the Throne, and herein is Nemesis:
" The Western Jew will equip an army of twenty million men in the East to destroy Christianity and human culture and to establish the Jewish world kingdom!"
'Oh, Europe, heart-land of civilisation, do you not yet understand? Can you not perceive where Jewish national unity coupled with your own internal conflicts lead? Can you not see the abyss towards which you are being driven by forces imbued with the cruelty and purposefulness of a supranational people. Alas ! There are so few who see it even now."
That army of 20 million men is what you have just covered in this article! And they will come in guise of 'liberators'
A brief video - as something from the 'Lord of the Rings'. Common-sense is all that is required to see they they are preparing.
'According to GRU Colonel Stanislav Lunev, the Russian Generals "were still committed to fighting and winning a future nuclear war against America. 'The nuclear war plan is still on,' he was told. But there would be changes. No longer would Russian troops be responsible for a follow-up invasion of the lower 48 states (U.S. mainland). Russian forces would be responsible for occupying 'Alaska and parts of Canada.' The Chinese would occupy the lower 48 states. In addition, certain Third World countries would be given 'looting rights.'" J.R. Nyquist, as told to him by GRU Colonel Stanislav Lunev
Soviet Defector Major General Jan Sejna.
"Portions of the Soviet plans for seizing control of the United States following a nuclear strike were described by the head of the Administration for Special Propaganda to Sejna just prior to Sejna's defection. The description provides an interesting insight into the possible nature of Soviet plans and, in a certain regard, their efforts to clothe mechanisms in indigenous or nationalistic trappings. In 1967 the Soviets believed that, in addition to strikes against nuclear and critical military targets, roughly 110 nuclear strikes would be adequate to cripple the United States. In the attack, Europe would not be destroyed. Rather, Moscow would launch a propaganda campaign to tell the Europeans that the Soviets had saved their lives. The United States would be blamed for starting the war and an international committee for the neutrality of the United States would be formed. Pressure would be produced from the left and from Europe and elsewhere for the United States to give up."
We confront Alexander Dugin's 'fourth political theory' or re-branded bolshevism and the salvation of 'Logos' (Christ) by chaos!
"The American Empire should be destroyed Dugin says and urges the acceptance of 'mythic, sociological Marxism' as a key element of an ideology that aims at the destruction of that 'empire'. He says;
'So we arrive at National Bolshevism, which represents socialism without materialism, atheism, progressivism, and modernism, as well as the modified Third Way theories....
The only thing that we insist on in creating such a pact of cooperation is to put aside anti-Communist, as well as anti-fascist, prejudices.'
Chaos can think. We should ask her how she does this. We have asked logos (John 1:1 &14). Now it is the turn of chaos. We must learn to think with chaos and within the chaos.... To make an appeal to chaos is the only way to save logos. Logos needs a savior, it cannot save itself."
As Iskander said to Daryl, the Russians are just pretending a new 'refreshed image' ....but not many people realise this is the same tool of the Jews' (ie. 'East good'/'West bad' dialectic). 25m 57 s - 28m 05 s
I am not exaggerating - as the friar foresaw above, we face the complete destruction of Western, Christian civilisation. Or as Dugin says above, the 'salvation' of Logos (Christ) by chaos!
The Jew, Harold Wallace Rosenthal, administrative assistant to Senator Jacob Javits in an interview with Walter White, when asked about men in high political office,
stated that no one in the last three decades has achieved any political power without Jewish approval
. "Americans have not had a presidential choice since 1932 when (the Jew) Franklin Roosevelt was our man; every president since Roosevelt has been our man" (Frank Britton, The Hidden Tyranny Behind Communism). Rosenthal's death in 1976 has been attributed to his loose lips.
https://www.biblebelievers.org.au/tyranny1.htm
Even before Roosevelt, the Jewish influence upon Woodrow Wilson (the Jew "Wolfsohn") was quite evident, as Henry Ford wrote in 1921--"Mr. Wilson, while President, was very close to the Jews. His administration, as everyone knows, was predominantly Jewish." The International Jew, Dearborn Publishing Co., III, p. 28-9).

Rabbi Cohen is recorded as saying. ". . .Fortunately for us at this time, we have ensconced in the White House the greatest friend that the "Jews" have ever had. President Bill Clinton has been of great benefit to us Jews. . . When the goyim of the United States discover his treason, they will probably dig up his corpse and chop it into pieces anyway. Black, white, yellow, brown or red, they are all stupid goyim, all animals. But we Jews pay honor to those who serve us well. And what better reward can anyone have than to be buried in Arlington? (Applause) Except for Woodrow Wilson, no other US President has helped the "Jews" more than has Bill Clinton. . ."
(Transcripts from tape labeled Yesivah Lecture #5 by Rabbi Cohen and translated from his Yiddish lecture tapes by David Goldstein. "The Spotlight", 300 Independence Avenue SE Washington DC; "The Truth at Last", PO Box 1311 Marletta, CA 30061).
As a confirmation, as I said to a UK contact today (who used to work for GCHQ) and can see it;

'You might note the gradual signs of the Europe/USA split with for example the UK ambassador to the USA incident or the fact of Macron attending Russia 'victory day' next year;
The plans have been made clear. When the USA and Europe are separated politically and NATO dissolved, then they strike. The West is in the most disastrous mass blindness to threat in human history. In my estimation, they have have already planned out the design of the world after WW3 as here;
I hope we can get some trustworthy Government and military persons in the know, because we must have co-conspirators/traitors within our government and military structures to make all this happen. But we must not underestimate what may be possible, if we can alert people and mobilise. Big things come from little things (Matthew 13:31-32).'